Anita and her team of professional Gardeners have been busy with their Garden Clearance Services recently, delighting their customers in the Wimbledon area with their gardening prowess.
They have been clearing garden beds and building some very smart stone borders, getting the garden ready for winter and for next season as well. A particular request at this time of year as many of our customers are asking for our help in preparing their gardens for winter.
Winter is a golden opportunity to take the time to take stock of the year's success and failures and to get on with planning for the next year. It also provides the best time for commence work on any construction or adding any features to your garden, so that, by the start of Spring, your garden will be ready for the first plants.
Our Gardeners will take the time to repair any damages to your wooden fences before the damp and cold weather hits home.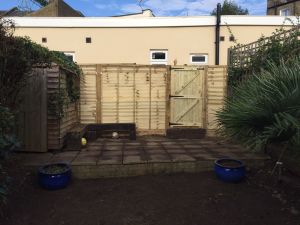 Autumn is also the perfect time to look after your Garden furnishings, gardening tools and the general upkeep of your garden. Ed's Garden Maintenance's Garden Clearance Services offer the best opportunity to help you and your garden.
Before the winter sets in, and after a wet or cold autumn, our Jet Washing Service can help clear away any damp moss residue off of walls, pathways, driveways, gates and stairs. Performing this simple service will make sure that your garden is safe from slippery surfaces when wet or frozen.