Tim's Latest Challenge
Unique gardening jobs are a key part of Ed's. Ask an Ed's Gardener and they will tell you that no two days are ever the same. Gardening jobs can vary greatly from mowing large lawns to delivering mini-projects with a very specific remit.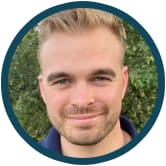 Tim runs his Ed's business in Taunton and always enjoys meeting his customers' needs. Tim thrives on the challenge of different types of jobs. He has recently completed a transformation of a new build front garden. This is what Tim has to say about it…
Unique Gardening Jobs – The Background
"One of the things I love about Ed's is the variety of my work. You never quite know what a customer is going to want doing. I enjoy the challenge of that. This recent job was the front garden of a new build house. The turf that had been laid by the housebuilder was not of a very good quality and, although shrubs had been planted, it had all been done in quite a haphazard way. Furthermore, as it was the front garden and visible to all, the owner felt that the space really impacted on the look of their house."
Unique Gardening Jobs – The Plan
"I had a good chat with the customer as there were clearly a range of options from which they could choose. However, it became clear that, rather than fill up the space with lots more greenery, the customer preferred a clean-cut look that was visually pleasing but also really low maintenance. The maintenance aspect is a very important consideration when deciding on the best course of action. And so, following a good chat, we charted our course of action. Consequently, we were going to remove everything, put down a membrane and lay bark. We would have a few specifically chosen plants to grow in the space. And so, to work…"
The End Result
"My customer was really happy with how it all turned out. They said it was exactly what they wanted. It looked good and it was very low maintenance. A good result all round!"
Indeed, if you would like some help sorting out your own garden, Tim would be very happy to help. Please do get in touch.