Hedgehogs Alert – Remember, Remember…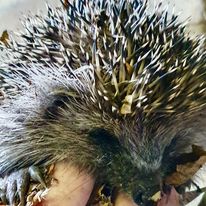 Let's talk about hedgehogs…
We love hedgehogs. There, we said it. Hedgehogs are indeed very close to the hearts of Ed's gardeners. They really are fantastic little garden buddies. Quietly going about their business of eating many plant destroying insects and snails. Aside from doing this very important job, they look very cute as well. Well, quietly isn't strictly true though. They are very good at minding their own business but they can be fairly vocal, with a variety of grunts, snuffles and squeals. Quite the little characters they are. We consider it our privilege to be so close to nature on a daily basis and to share the garden with them.
How can we help?
We do our best to help our spiky little friends whenever we can. We were able to help this very little guy in the photo get back to safety. Dan, our Ed's gardener in Great Bookham, found him wandering by the side of the road and was able to escort him out of the danger's way.
Of course we all love this spectacular crunchy time of year when the beautiful autumnal leaves come tumbling down in swirls. All glorious but thoughts quickly turn to getting them cleared away when it all turns a bit messy. Actually, we can help with that, but that's a topic for another day. Hedgehogs are predominantly nocturnal and like nothing better than dozing away for significant parts of the day. They particularly enjoy curling up in a cosy pile of leaves and other garden waste to have a nice long nap. Please do keep this in mind when moving piles of leaves and garden rubbish that have been left, even for a little while. That way no harm will come to any hedgehogs. Our gardeners always have a thorough check through any piles that have been sitting before we move anything.
Remember, remember the 5th of November
Finally, and very importantly for hedgehogs, Bonfire Night is almost here. In particular, please do check thoroughly that there are no little sleeping beauties inside before you set alight any bonfires.
To sum up
Happy hedgehogs, happy Ed's gardeners